Everyday Hybridity
Dr Paul O'Connor
Anthropology/Sociology/Cultural Studies/
Hong Kong/Ethnicity/
Skateboarding/Everyday Life
Lecturing in Anthropology at CUHK
cuhk.academia.edu/PaulOConnor
Follow me on Academia.edu
@peejayohhsee
everydayhybridity@gmail.com
My Publications
What is Everyday Hybridity?
Posts on Hybridity
Posts on Hong Kong
Posts on Islam
Posts on Skateboarding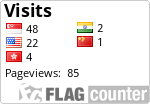 Free counters
powered by tumblr
seattle theme by parker ehret
"Having no permanent bonds, the denizen of our liquid modern society must tie whatever bonds they can to engage with others, using their own wits, skill and dedication. But none of these bonds are guaranteed to last. Moreover, they must be tied loosely so that they can be untied again, quickly and as effortlessly as possible, when circumstances change — as they surely will in our liquid modern society, over and over again."